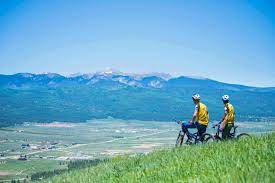 SUMMER ACTIVITIES Perfectly positioned in the Sangre de Cristo Mountains in the Southern Rockies, Angel Fire  is a golden spot for recreational activities the whole family can enjoy.
In the summer, guests can spend their days enjoying the fresh alpine air while participating in  activities such as mountain biking, golfing, ziplining, hiking, fishing, paddleboarding,
Hiking, Horseback riding, ATV and so much more. Angel Fire  is your base for all things family adventure in the heart of the Rocky Mountains.
And while you are here come see us at New Mexico Mountain Properties – with offices located in Taos and Angel fire. We are here to help you find the home of your dreams –
whether that is a permanent residence or a weekend getaway. We do it all. We sell land in Hidden Lake and Taos Pines Ranch, condos and houses in angel fire and Taos, and so much more.