Taos Real Estate
There could be no better time to purchase Taos Real Estate!
Located on a high desert in Northern New Mexico in the foothills of the Sangre de Cristo Mountains, Taos is the Soul of the Southwest. With its cultural diversity of Pueblo Indians, Spanish and Anglo cultures and its rich artistic sensibility from ancient to contemporary, Taos offers a spectacular environment to call home in the Land of Enchantment.
Taos is the Tiwa word for "Red Willow People" which the Taos Pueblo Indians use to refer to their tribe. The Pueblo Indians have been in Taos for more than 1,000 years, the Spanish settled here over 400 years and the Anglos added to the mix around 200 years ago.
History, art and awesome natural beauty make Taos a town like no other! Funky, fun, and rough around the edges, Taos offers world class skiing, gourmet restaurants, sophisticated shops, and fine and contemporary art galleries.
Everyone is an artist in Taos and art is everywhere here! Art is displayed in over 80 art galleries and 6 museums, as well as the walls of restaurants, banks, hospital and other public spaces. Taos boasts more artists per capita than any other town in the world including painters, sculptors, writers, dancers, musicians and filmmakers.
It is a great time to purchase real estate in Taos. Come join us in this unique lifestyle... you are welcome!
New Mexico Mountain Properties brings you the best in Taos Real Estate. Whether you are looking for land in Taos to build your dream home or a Taos home to fit that dream, the multitalented realtors at New Mexico Mountain Properties can assist you. Visit all the fine real estate in Taos in the Taos Multiple Listing Service to find your perfect piece of Taos property in this magical community.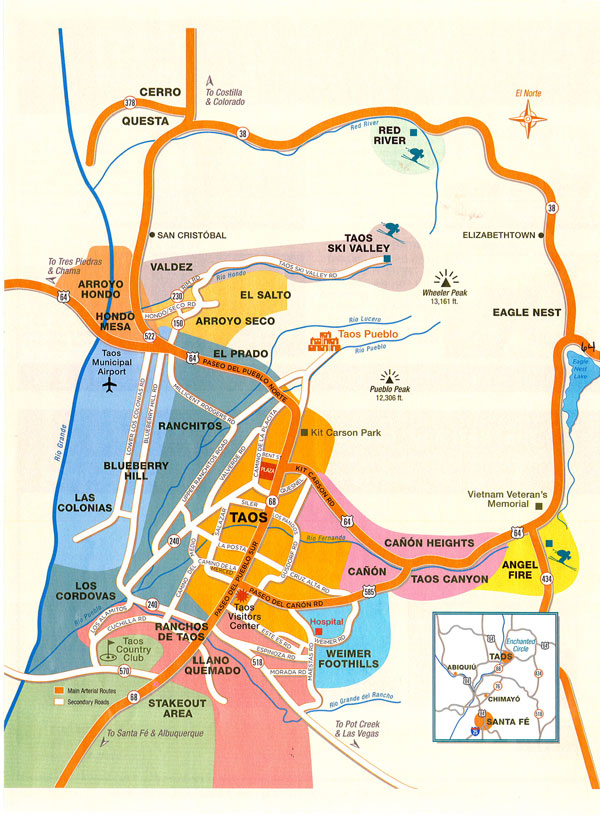 Map courtesy of TaosNews.com
Homes
Click the picture or property title below for an in-depth property description and more pictures or click here to access all MLS Listings.

Harmony In The Hills
-
For Sale
2.34
$925,000.00
Canon Foothills

PEACEFUL IN PENASCO
-
For Sale
1.42
$170,000.00
PENASCO AREA 29B

540 Hondo Seco Road
-
Sold
2.05
$749,000.00
540 Hondo Seco Road

Classy Downtown Condo
-
Sold
0
$135,000.00
226 Kit Carson Cottonwood One

Country Club Charmer
-
Sold
2
$439,000.00
255 Los Cordovas

Elegant Taos Adobe
-
Pending
3.00
$895,000.00
1101 Juniper

Vista Azul
-
Pending
47
$739,000.00
35872 US Highway285 Ojo Caliente

Elegant Taos Family Home
-
Sold
1.67
$579,000.00
38 Shana Madre Taos Valley

Modern Serenity on Hondo Mesa
-
Sold
6.7
$468,000.00
Spacious home on 6.7 acres

Fish, Ski, Relax
-
Sold
.23
$325,000.00
4910 HWY 518

Stunning Passive Solar in Lama
-
Sold
3.05
$330,000.00
0 Private Road

Unique New Construction in Taos
-
For Sale
3
$369,000.00
65 Calle Feliberto

Cozy in Taos Canyon
-
Sold
.55
$159,000.00
Quiet Getaway Near Taos
Land
Click the picture or property title below for an in-depth property description and more pictures or click here to access all MLS Listings.

Prime Des Montes land
-
For Sale
2
$240,000.00
2 acres in desireable Des Montes

6 Acres Near the Rio Grande Gorge
-
For Sale
6
$180,000.00
Pristine, Views Forever

Amidst Pinon and Juniper in Weimer Foothills
-
For Sale
3
$185,900.00
Breathtaking vistas!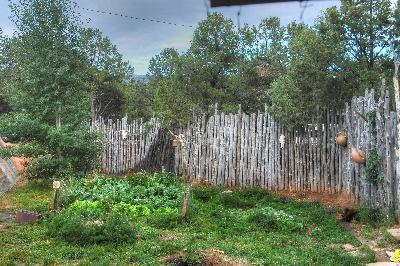 Lama Sanctuary
-
Sold
3.8
$250,000.00
Green Living in the Pines

Arroyo Seco Treasure
-
For Sale
1.79
$179,000.00
1.79 acres with water rights

Sunset
-
For Sale
4
$215,000.00
4 acres on Bluebird Lane

El Salto
-
For Sale
1
$150,000.00
Calle Caballero, Arroyo Seco, New Mexico 87514

Eototo
-
For Sale
1.3+/- Acre
$154,000.00
Beautiful Views of Taos Mountains

Fabulous Forty
-
For Sale
40
$160,000.00
Sheep Herder's Road

Near the Wild and Scenic Rivers Area
-
For Sale
5.14
$150,000.00
Architect's Dream Site

Next to the Wild and Scenic Rivers Area
-
For Sale
10
$450,000.00
10 Acres on the Gorge

Skyline Drive
-
For Sale
18.81
$269,000.00
Spectacular Canon Foothills parcel

Terrific Ten in Turley Mill
-
For Sale
10.12
$199,000.00
Lot 17 Mesa Lane Turley Mill

Top of the World
-
For Sale
2.5
$110,000.00
2.5 Acres Near Rio Grande Gorge