Taos Pines Ranch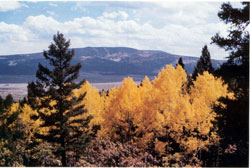 Please select from one of the following options:
Located in the Northeastern New Mexico just 19 miles east of Taos and overlooking the scenic Moreno Valley, Taos Pines Ranch is only 3 miles from the charming community of Angel Fire.
This unique property is also located within the Enchanted Circle, an 84 mile loop around Wheeler Peak, New Mexico's highest mountain. Designated a U.S. Forest Service Scenic Byway, this relaxing day trip takes you through some of the Southwest's most amazing forests and lush grasslands, as well as gorgeous mountains and rugged canyons.
In the Spring, Summer, and Fall, you're only minutes from golf and tennis, fishing for "trophy Trout" on famous Eagle Nest Lake, whitewater rafting on the Rio Grand River, horseback riding and hiking on the many mountain trails. Unique to the fall is world class Elk and Deer hunting!
In the Winter, alpine and nordic skiing take center stage. With hundreds of runs at four nearby ski resorts, you can take your pick of terrain and challenge. Snowmobiling is also very popular. Or, if you prefer a more relaxed activity, there's always ice fishing on Eagle Nest Lake and sleigh rides through the forests.
Don't miss this unique opportunity! Contact us today for your personal tour.