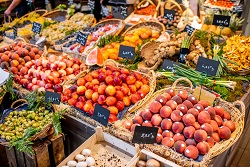 Taos Farmers Market Opening Day 2021 – May 15th! Saint Isidro Day Patron Saint of Farmers
Join us back on the Plaza May 15, 2021 for our Opening Day Celebration! Many of our farmers have been hard at work and are
ready to hit the ground running this season with fresh, local, naturally-grown produce and plant starts. Come get some plant
starts or even fruit trees to start the garden of your dreams this year, no yard is too small any patch of soil given attention
and care can produce food. Get to know your farmers and you get to know the land you live on, we promise you'll taste the difference.
May 15 also happens to be Dia de San Isidro Labrador patron saint of farmers – to celebrate this Saint who many of our farmers pay
homage to we are partnering with the Alianza Agri-Cultura de Taos, Taos Valley Acequia Association, Taos Land Trust, & the
Taos Country Economic Development Center to bring Auntie Nannie's Seed Exchange station to the market. Come learn about farming and
planting and all that goes into local food production from groups who know the ins & outs of farming and food production in Taos!
They have a whole week of activities planned see their promotional flyer on our Facebook or Instagram pages & join in on the fun!
for more information visit their webpage at http://taosfarmersmarket.org/
Please follow all current state/local health orders when visiting market thank you!
And while you are in town You can visit us at our Taos office and take a look at some of the amazing homes for sale in Taos or the amazing
Taos Earthships that are currently on the market! Also take look at some Taos Land and Taos Condos!