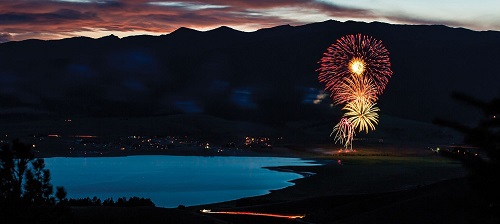 Trying to think of something fun to do this coming Fourth of July weekend, but still wanting to maintain social distancing and follow CDC guidelines?! Why not head down to Angle Fire, and enjoy the fresh mountain air? While you are here, stop by and see us and let one of our talented brokers show you some of the amazing properties we at New Mexico Mountain Properties have for sale in the Angel Fire area, such as 10-20 acre parcel lots at Hidden Lake and Taos Pines Ranch, or perhaps an Angel Fire Condo may fit your needs. You can also visit us at our Taos office and take a look at some of the amazing homes for sale in Taos or the amazing Taos Earthships that are currently on the market! We are following all state guidelines to help keep you and your families safe!
While you are here, there are lots of great activities to take advantage of in the Enchanted Circle this coming weekend that you can enjoy from the comfort of your car or home!
• Taos will have fireworks in an undisclosed location so that everyone may watch them from their homes.
• Eagle Nest will have fireworks over Eagle Nest Lake, please stay in your vehicles and observe Social Distancing: Fireman's BBQ Fundraiser will take place with take out only, they are still waiting on a permit for a parade.
• All of the great activities available to visitors, such as Hiking, fishing or boating on any one of the great lakes, Camping, Mountain Biking, ATV tours, Horse Rides, BBQ's, and MORE!
So come and spend your weekend with us, and enjoy celebrating the 4th of July by exercising your freedom to buy property!
For more info about Fourth of July Activities: http://web-extract.constantcontact.com/v1/social_annotation_v2?permalink_uri=https%3A%2F%2Fmyemail.constantcontact.com%2FChamber-Informational-eBlast-06-29-2020.html%3Fsoid%3D1108502293675%26aid%3DKgL52nS-xrA&image_url=https%3A%2F%2Ffiles.constantcontact.com%2Fbaca2e71201%2F5502719f-e528-4850-9418-3ae3377b89f0.jpg&fbclid=IwAR3HwgwHILPYV044O_o0vPUVHlyEWqGtdwxlSurt5KsnJyUhZW3o-skehFw