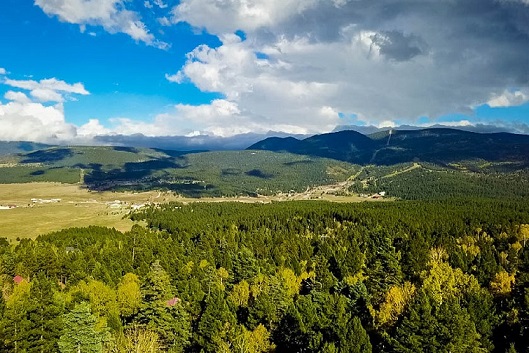 Angel Fire is opening back up, while still keeping the safety of our visitors and locals alike in mind, by following all state and CDC guidelines, and now is the perfect time to visit.
Some of the locations and activities that are now open for you to enjoy, include but are not limited to:
-The Zipline at Angel Fire Resort
-the Weekly Angel Fire Art and Farmers Market (every Sunday from June 7th- September 6th)
-Roadrunners Tours (horse Back Riding – with fabulous views)
-Bobcat Pass Wilderness Adventures
-Angel Fire Bike Park
-Angel Fire Golf Course
-A number of Restaurants – now open for pickup and limited dine in or outside seating options.
-And a plethora of other activities and things to do – such as hiking, fishing and boating.
So for those of you who are feeling cooped up during Self-Isolation, thinking about expanding or branching out to an area with less people, and that fresh mountain breeze? Come see us in Angel Fire and Taos where you can have fun and let us show you some of the lovely lands, houses, condos, and ranches we have available. Whether you are looking for a house in Taos, a condo in Taos, or lakefront property in Angel Fire, we have you covered, and are here to help with any Taos Real Estate or Angel Fire Real Estate needs.
So come visit us, stretch your legs, have some fun, and get outside while looking towards your future. Here at New Mexico Mountain Properties in Angel Fire and Taos, We have exactly what you have been missing.
For a more information on business openings, and what Angel Fire is doing to keep you and your family safe please click on the link below: http://web-extract.constantcontact.com/v1/social_annotation_v2?permalink_uri=https%3A%2F%2Fmyemail.constantcontact.com%2FChamber-Informational-eBlast-06-15-2020.html%3Fsoid%3D1108502293675%26aid%3D4Le6C57QlKg&image_url=https%3A%2F%2Ffiles.constantcontact.com%2Fbaca2e71201%2Fe4b2142c-bca9-462a-ac43-db129632d28f.jpg&fbclid=IwAR0Nx-MZiDLbJTsWjJus5BG6xZ88K8OKt3T8Em06Aov5iRPLRg_2izxPrSM