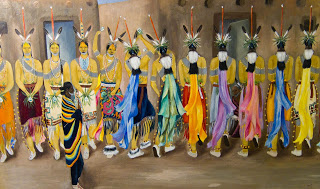 It's the beginning of a new decade and there is so much to do in the area! From Taos to Angel Fire to Red River, you can find events for everyone from the cultural to the candid and the Enchanted Circle is the place to celebrate with friends and family! Check out our top picks for the best New Mexico has to offer:
***Taos Pueblo Feast Days
Jan. 1 Turtle Dance– Taos Pueblo will open to the public by 9 am to all visitors. No visitors are allowed prior to this time, dances may last all day dependent on weather. No cellphones and/or recording devices allowed. Thank you for respecting our home. (FREE ADMISSION)
Jan. 6 Deer or Buffalo Dance– Dependent on which dance, this is the tentative schedule: Deer dance will start 1 pm (approximately), lasting all afternoon. Buffalo dance will start 11 am (approximately), lasting 2 hours or so.
***New Year's Eve at El Monte Sagrado
Date and Time Tuesday Dec 31, 2019 Wednesday Jan 1, 2020
December 31st 9PM - January 1st - 1AM
Location El Monte Sagrado
Fees/Admission Tickets are $40 with advance purchase and $50 at the door. https://tickets.holdmyticket.com/tickets/354175?tc=hmt
Website https://www.elmontesagrado.com/
Contact Information El Monte Sagrado - 575.758.3502
***TAOS INN: Come check out Taos Inn December 31st for a NYE celebration and stick around for the Town of Taos New Year's Eve Celebration at Taos Plaza, and the New Year's Eve Torchlight Parade and Fireworks. Lastly, on January 1, be sure to return to Taos Pueblo to witness the symbolic beginning of a new year during the annual Turtle Dance. https://www.taosinn.com/blog/a-terrific-taos-holiday-season
***Angel Fire Resort Bundle up and join us at the base of the mountain for an evening of music and of course our traditional torchlight parade and fireworks. If you are twenty-one or older, after activities have wrapped up on the mountain, come on down to the Village Haus. We will be keeping the party going with music, drinks, and fun until 2020!
4:00 pm – 6:00 pm Cookies & Hot Coco at the Base Area GIANT Coca Cola Bear Giveaway Coca Cola Swag Giveaways
6:00 pm Torchlight Parade & Fireworks Bundle up the family and join us at the base area for our annual New Year's Eve Fireworks & Torchlight parade.
7:00 pm – Midnight NYE Party @ Village Haus You must be 21 or over
***Red River's Old Fashioned New Year's Eve Red River Valley in the Winter (Carl Brown)DECEMBER - Guests and locals can find New Year's Eve Celebrations for all ages beginning with the annual New Year's Eve Torchlight Parade and Fireworks Display at Red River Ski Area on on December 31st. On New Year's Eve, take the kids to the Red River Community House for an Old Fashioned New Year's Eve Party to enjoy pizza, music and games. A countdown ball drops at midnight Eastern time (10 p.m. in New Mexico) allowing even the youngest celebrants to ring in the new year before heading to bed!
Kids of all ages are also welcome at the annual New Year's Eve Potluck at Enchanted Forest Cross Country Ski Area with lighted skiing and sledding at the base area.
Adults will enjoy ringing in the New Year at one of Red River's local bars with live entertainment and, of course, champagne!
Contact the Red River Chamber of Commerce Telephone: 575-754-2366 Email: rrinfo@redriverchamber.org
As you celebrate the beginning of a new year, let this be a time to chase new adventures and dream big in 2020! Have you been ever imagined what it would be like to own a Taos condo or to find land for sale in Taos to build your dream home? Have you pictured friends and family gathering after a day on the slopes in your spacious home in Angel Fire, finding the perfect parcel for sale in Angel Fire or condo for sale in Red River? There are so many possibilities to make memories in the beautiful Enchanted Circle so let one of our expert brokers show you what's out there today! Call 575-377-2626 in Angel Fire or stop by at the blinking light with the tipi out front! Or call 575-758-5852 for Paula in Taos. New Mexico Mountain Properties wants to help you with all your real estate needs!