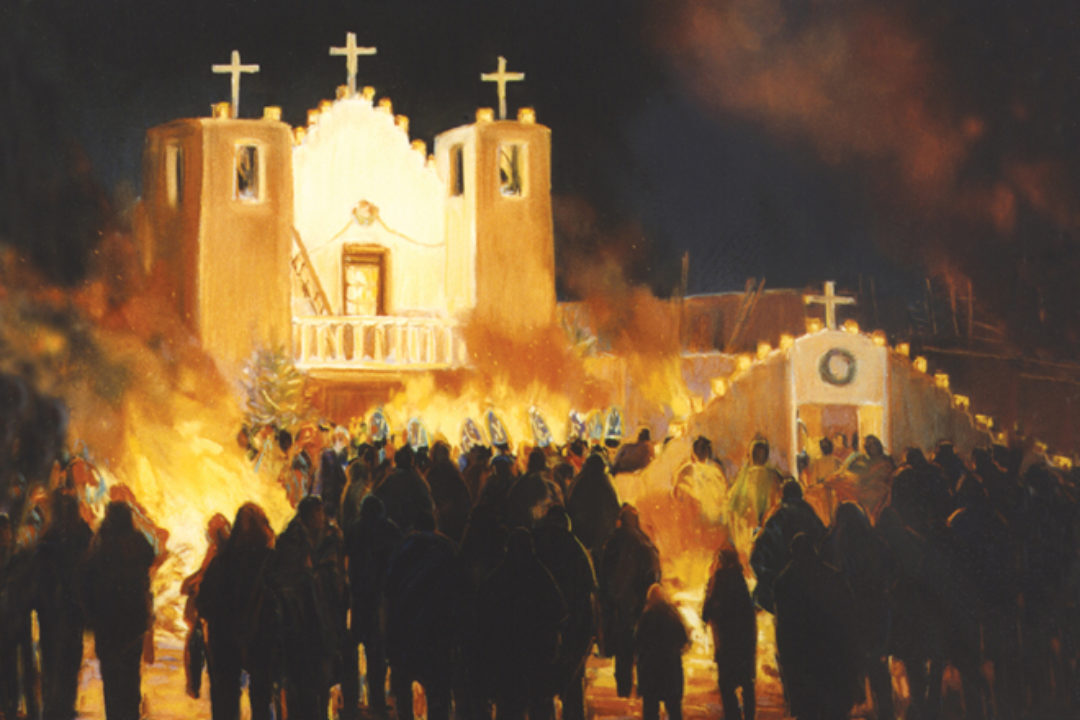 Christmas is the most magical time of year in beautiful Northern New Mexico with all the traditions, visitors and snow it is the perfect place to come to celebrate with family and friends. There is nothing quite like starting your own family traditions that intertwine with the culture and rich history of New Mexico. The Taos Pueblo is such an important part of the culture here and we hope you will check out the events in the area and become familiar with all that is the Taos Pueblo.
Christmas Eve Procession at Taos Pueblo December 24, at Sunset Nowhere else on Earth can you experience this magical event. A stunning contrast between massive bonfires and the Procession of the Virgin with rifle salutes from the rooftops of the 1000 year old adobe pueblo buildings. A pageant of beauty, heritage, and awe inspiring imagery. For details visit taospueblo.com
Christmas Eve Torchlight Parades December 24, 6:00 PM A great way to kick-off your Christmas Eve celebrations! Watch as skiers make their way down the mountain in the dark with flares as their only means of light. All the area ski resorts – Taos Ski Valley, Angel Fire, Sipapu, Enchanted Forest, and Red River – have torchlight parades and fireworks during the holiday season.
Taos Pueblo Deer or Matachinas Dance December 25, 2:00 PM, Taos Pueblo Plaza Witness this ancient Native American ceremonial dance honoring the depths of winter, as danced and drummed by the people of Taos Pueblo. No cameras, cell phones, or video cameras allowed. taospueblo.com
Town of Taos New Year's Eve Celebration on the Plaza Tuesday, December 31, 2019, Taos Plaza 7:00 PM to 10:00 PM Mayor Dan Barrone and his family will be serving a pig roast dinner free to the community and visitors starting at 7:00 PM. Time Square Countdown at 10:00 PM followed by fireworks display by Taos Volunteer Fire Department. Live music by Michael Hearne and The Damn Band from 7:00 PM to 10:00 PM. Join us for a fun, family-friendly celebration!
New Year's Eve Torchlight Parade & Fireworks December 31, starts at 6:00 PM Watch the trails of light as skiers with torches in hand glide down the famous Taos Ski Valley mountain under the starry skies. Firework displays light the winter sky in celebration of the new year. All the area ski resorts – Angel Fire, Sipapu, Enchanted Forest, and Red River – have torchlight parades and fireworks during the holiday season.
While you are here, think about becoming a permanent part of this rich Taos culture and let one of our knowledgeable brokers show you a fabulous Taos condo for sale or land for sale in Taos. We have many homes for sale in the Taos area that are fully furnished and ready to hand you the keys to your future!
Imagine all the adventure and traditions you can create with family and friends in Taos or Angel Fire. We also have homes or and condos for sale in Angel Fire or Angel Fire land for sale. Come visit and stay forever in the beautiful Land of Enchantment! Call 575-758-5852 for Paula or 575-377-2626 in Angel Fire. We are located at the blinking light with the tipi in Angel Fire. Let us help you with all your real estate needs!