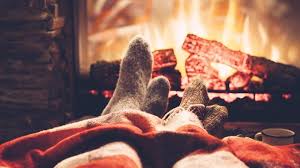 Ready or not, the days are getting shorter, the nights are getting longer and winter in on its way! There are some simple steps to making sure your home is safe and cozy when winter officially arrives and they will keep you safer and warmer if you can do a little upkeep.
*Prepare your furnace for winter Have a pro check it out and replace the furnace filter before you begin using it daily
*Clean your fireplace and chimney Inspect the flu, doors and shield and make sure they are sound. Get the chimney professionally swept if possible and don't forget to buy firewood ahead of time!
*Keep cold air outside and warm air inside Check weatherstripping by opening a door, placing a piece of paper in the entryway and closing the door. The paper should not slide back and forth easily. If it does, the weatherstripping isn't doing its job.
*Bring in light Clean windows and open coverings for optimum sunlight and brightness to keep dreary days at bay.
*Create a mudroom to keep mud and snow tracking at a minimum
*Check batteries and test carbon monoxide detectors as well as smoke detectors. Also, it's a good idea to have an emergency kit with flashlights, batteries, water and some food and blankets just in case!
Winter-proofing your home is especially crucial when you live in mountain terrain such as Taos or Angel Fire which have very white winters. Check your home or if you are dreaming of a home to enjoy during a snow storm, come visit us and let us help you find the perfect home for your needs! Planning weekend getaways to a Taos condo or Taos home for sale? Want to ski in/ski out from an Angel Fire home or Angel Fire condo for sale? We have just the property for you!
Call 575-758-5852 for Paula in Taos or 575-377-2626 for our Angel Fire office at the blinking light with the giant tipi on our lot. We look forward to serving all your real estate needs!