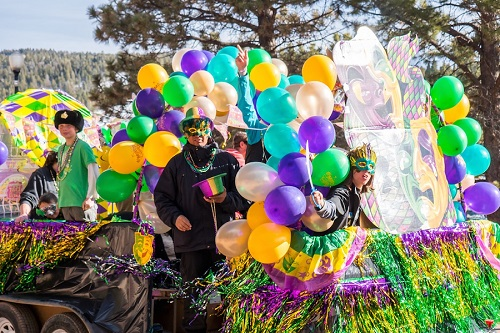 Mardi Gras is about music, parades, picnics, floats and excitement. It is one big, holiday party.
Carnival celebration starts on, the Twelfth Night (feast of Epiphany), and "picks up speed" through midnight on Fat Tuesday, the day before Ash Wednesday.... It is also known as Mardi Gras Day or Shrove Day. It is a day when people eat all they want of everything and anything they want as the following day is Ash Wednesday, the beginning of a long fasting period for Christians.
So, what do you do to prepare for Mardi Gras in the Mountains?? You grab your gear and head to the mountains snow is in the forecast for this weekend. The mountain crews have been hard at work.....Thank You folks for keeping the mountains of the Enchanted Circle in incredible shape with very little help from mother nature. Maybe mother nature will smile on us with a grand snowfall. So whether you prefer to ski or board in Taos, Red River or Angel Fire here are some options for Mardi Gras revelry.
The fun starts today and lasts on through..... you know...till Mardi Gras. Where do we start.....
Thursday, February 8, 2018 - Tuesday, February 13, 2018
You may want to join the Krew in Red River the week is filled with costume balls, bead tossing, singing and dancing, Cajun and Creole gourmet delights, parades, kids costume contest, cajun cook-off, burning of the Loup-garu, crawfish boils, downhill gator race, and more!
Celebrate Mardi Gras in Angel Fire with the Resort, enjoy the live music daily, colorful beads, great food and fun. Oh yeah don't forget the fresh powder.. Think Snow..Power of Persuasion..Think Snow.
Friday, February 9
Live Music by Gary V. | Village Haus | 4-7pm
Saturday, February 10
Live Music by Blue Rose Revival | Village Haus | 4-7pm Live Music by Cory LeBert & Dean Manning | Village Haus | 7-10pm
Sunday, February 11
Mardi Gras Parade in the Village of Angel Fire Begins at North Angel Fire Rd & Vail Ave at 3pm Live Music by Cory LeBert | TBD | 3:30-6pm Live Music by Cory LeBert | Village Haus | 7-10pm
Monday, February 12
Live Music by Cory LeBert | TBD | 3:30-6pm
SHUTER LIBRARY BENEFIT MARDI GRAS BALL
The Best Fancy-Dress Party of the Year is at the Angel Fire Country Club on February 12th as a benefit for the Shuter Library. Come in your finest or dress in costume to match the theme "Love in the Mountains Famous Lovers"! Full Bar, awesome entertainment by the Jimmy Stadler Band, a full sit-down buffet, and a plethora of activities for your enjoyment!What more do you want.
Tickets available at the Library in Angel Fire or by calling 575-377-6755 to book reservations. Cost: $45 ($50 for reserved tables)
Tuesday, February 13
Fat Tuesday Party | Angel Fire Community Center with live music by Fun Adixx | $15 per person | 6-10pm (Music starts at 7pm) *Shuttle Service To & From The Lodge* And this is just Mardi Gras, more fun is to be had in the Enchanted circle. Life just gets better and better. So join in on our fun and buy a home, condo or build your dream home in Angel Fire. Don't you want to buy property and live in Angel Fire? With amazing homes for sale in Angel Fire you are sure to find that perfect destination property that puts you close to the slopes? When it comes to buying and selling a vacation home or condo in Angel Fire, use a local real estate agent like New Mexico Mountain Properties. We are dedicated to bringing you the Best of Real Estate in the Enchanted Circle.
So when looking for the best Angel Fire Real Estate let us help you find your dream home. Land for sale in Angel Fire might be what you are looking for to build your perfect vacation home. Perhaps you desire to sell your Angel Fire property whether it be lot, land, home or condo we are the Angel Fire Real Estate company to call.
Whatever you fancy, we are here to assist, our knowledgeable agents go that extra mile to find exactly what you require. Call us at 575-377-2626 in Angel Fire or to speak directly to a broker call Paula at 575-770-3306. We are here to welcome you to our growing community.... The mountains are calling!!!!
Information obtained from Red River and Angel Fire Resort and Mardi Gras New Orleans