It's a great time to buy Taos real estate or property in Angel Fire, New Mexico!
Whether you are looking for Taos Land or Acreage in Angel Fire to build your dream, or a Taos Home or Home in Angel Fire to fit that dream, our team of agents know Taos Real Estate and Real Estate in Angel Fire, NM better than anyone - allow us to assist you. We specialize in the most spectacular Land, Ranches and Homes in Northern New Mexico.
New Mexico Mountain Properties is a member of the Taos Multiple Listing Service, so if you don't find the Taos Property or Property in Angel Fire that you are looking for on our site, you can access listings throughout The Enchanted Circle via the Taos MLS for all Taos Real Estate and Angel Fire Real Estate listings. Thank you for visiting us. We are dedicated to making your dream a reality.
Allow New Mexico Mountain Properties to assist you in finding that perfect piece of property. We bring you the best in real estate throughout the Enchanted Circle.
Featured Home
This elegant architect designed 3 bedroom, 2.5 bath contemporary passive solar home sits on 3.7 acres on Taos mesa has it all. Utilizing massive form-poured insulating pumice-crete walls to shield from the prevailing west winds, a fully glazed heavy timber structure opens south and east to both heat and shade the house in the extreme summer and winter climate of northern New Mexico, providing a temperate interior environment year round. A heavy timber wooden structure is set off against smooth white plaster finishes, high ceilings, ample day lighting and built in full length hanging system for your featured art pieces. High wood ceilings, wood trimmed walls and custom cabinetry in the open plan living area give way to views strategically oriented to the mountains and surrounding courtyard. This space, with built in breakfast nook and wood burning fireplace, was designed for unconfined everyday living and for casual entertaining. Two bedrooms share an artisan-tiled bathroom and bonus recreation room, while the main bedroom suite with walk-in wardrobe, features sunlight filled slate tiled shower & air-spa tub.Outside the main bedroom, a private morning patio and lawn area also has sunset nordic hot tub spa with east view to Taos Mountain and west view to sunset. Past the library with traditional viga ceiling and built in wood shelves, an office with built in desk, high ceilings and day lighting occupies the end of the gallery. Upstairs, the high ceiling studio features hardwood floors, balanced north light, built in cabinetry and counters with sink. The xeriscaped sunken courtyard, an outdoor living room that doubles the useable area of the house in season, complete with flagstone paths and patio, timber shade structure at outdoor dining and barbeque, grade level and raised planters with automatic irrigation throughout courtyard, high capacity catchment pond and water feature, stone fire ring and built in raised planter seating area.
More details
»
Contact us today!
»
Find Taos, NM Real Estate and Real Estate in Angel Fire FAST!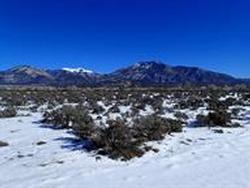 LAND -
Taos Land
Looking for a special home in Taos or a bit of Taos land to call your own? Search no further, New Mexico Mountain Properties can help you locate that perfect piece of Taos property. Located on a high desert in Northern New Mexico in the foothills of the Sangre de Cristo Mountains, Taos is the
Soul of the Southwest
. With its cultural diversity of Pueblo Indians, Spanish and Anglo cultures and its rich artistic sensibility from ancient to contemporary, Taos offers a spectacular environment to call home in the Land of Enchantment. There could be no better time to purchase Taos Real Estate.
View Taos Properties
»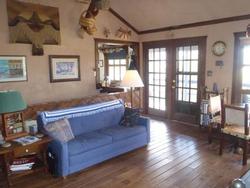 LAND -
Lonesome Dove Views
For ski resorts in the Rockies, Angel Fire is that best kept secret. If you missed out in Vail or Aspen, don�t let this chance get away!! Now is the time to purchase Angel Fire Real Estate!
Nestled at the base of the Sangre de Cristo Mountain Range in northern New Mexico at an elevation of 8,500 feet lays a community for all seasons, Angel Fire.
One of the fastest growing resort towns in the Southwest, there is something for everyone! The winter brings blue skies, sunshine, and wonderful powdery snow to enjoy down-hill skiing, cross country, snowshoeing, and snowmobiling. Escape the heat and golf, hike, bike, fish, horseback ride and more. Fall brings magnificent color to the mountain when the aspen turn a glorious golden against the dark green pines. Blankets of wild iris usher in the Spring.
View Angel Fire Properties
»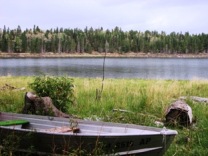 LAND -
Lot 40 A&B LAKEFRONT
This property offers peaceful, secluded mountain living, only minutes from civilizations pleasures. Situated atop a massive plateau, Hidden Lake, is located 10 miles south of Angel Fire and 32 miles east of historic Taos, New Mexico. The combination of seclusion, large parcel size, and breathtaking views, plus affordable pricing make Hidden Lake a dream come true. Lakefront parcels are available, yet all Hidden Lake owners have access to this 47 acre spring-fed alpine lake stocked with trophy trout.
Click Here For a Video Introduction
-
Realty Times Web Site
View Hidden Lake Properties
»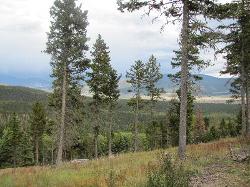 LAND -
Lot 47 Palo Flechado Road
Taos Pines Ranch is 1200 acres of the most beautiful alpine settings in the entire Southwest. A mountain paradise of pristine pines, aspen groves and mountain meadows with abundant Elk, Deer, and other wildlife. Located in the Northeastern New Mexico just 19 miles east of Taos and overlooking the scenic Moreno Valley, Taos Pines Ranch is only 3 miles from the charming community of Angel Fire. Taos Pines Ranch borders Cason National Forest, which offers 1 million acres of outdoor recreation.
View Taos Pines Ranch Properties
»
Dimond Mortgage combines mortgage expertise with our understanding and appreciation of our New Mexican community to help guide you in securing the best possible financing for your home. Vanessa and Ted Dimond have both been securing home loans in New Mexico for clients for over 20 years.